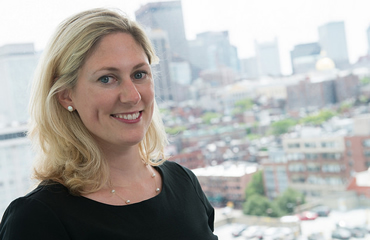 Anne Stevenson is the Program Director for the Chester M. Pierce, MD Division of Global Psychiatry at MGH, where she manages a portfolio of more than 10 international mental health studies and collaborations. Ms. Stevenson has extensive experience managing healthcare and research programs in Boston, Rwanda, and Ghana.
In her current role, Ms. Stevenson works closely with investigators at Addis Ababa University on a randomized control trial testing folate plus B12 with schizophrenia patients and supports projects in Brazil, Somaliland, and Kuwait. She also administers the MGH Global Psychiatric Clinical Research Training Program (T32).
Prior to joining the Global Division, Anne managed a large Gates Foundation study at the Ragon Institute of MGH, MIT, and Harvard investigating the development of broadly neutralizing antibodies in HIV infection with collaborators in Durban, Berlin, Boston, San Francisco, and Washington D.C. Before moving to the Ragon Institute, Ms. Stevenson lived in rural Rwanda and ran several NIH-funded studies on mental health and HIV for the Harvard School of Public Health. She previously worked for Partners Harvard Medical International, a Partners HealthCare-affiliated international healthcare organization, and for the United Nations Refugee Agency (UNHCR) in Ghana coordinating HIV programming with Liberian refugees at a 35,000+ person refugee settlement. Ms. Stevenson also has a background in communications, having worked at Doctors Without Borders (Medecins Sans Frontieres) in London in their communications department and at National Public Radio in Boston.
Ms. Stevenson earned her master's degree in Health Policy, Planning, and Financing from the London School of Economics and the London School of Hygiene & Tropical Medicine. She also holds certificates in Global Mental Health: Research and Action, Antiretroviral Program Management, and Infant and Young Child Feeding in Emergencies.