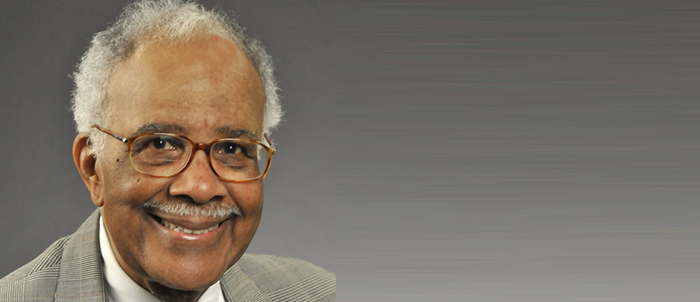 Let us take a moment to reflect on the remarkable legacy of Dr. Chester Pierce, whose academic papers have now been made a collection by the Countway Library at Harvard Medical School. We are delighted to share the news of this collection, also announced by one of Dr. Pierce's and our own most cherished colleagues, Dr. David Henderson, Psychiatrist-in-Chief at Boston Medical Center.
More information about the collection can be found here: https://countway.harvard.edu/news/chester-m-pierce-papers-open-research
Today, as the inequities wrought by COVID-19 globally have brought greater clarity about structural violence and systemic racism in health care, mental health services, and within the field of Psychiatry itself, it is critical that we work together to confront racism in its various forms. Throughout his lifetime our dear friend and colleague Dr. Pierce not only illuminated the world about the broad impacts of racism, he imparted specific knowledge on the everyday microaggressions, humiliations, discrimination and exclusion experienced by people of color in America. You are encouraged to take a moment to reflect on his legacy, and to explore his papers at the Countway Library at Harvard Medical School.
Dr. Chester Middlebrook Pierce was Professor Emeritus of Psychiatry at Harvard Medical School, Boston, Massachusetts, Professor Emeritus of Education at the Harvard Graduate School of Education, Cambridge, Massachusetts, and Senior Psychiatrist at Massachusetts General Hospital. He helped found both HMS's Global Psychiatry Program and MGH's Division of International Psychiatry (later renamed the Chester M. Pierce, M.D. Division of Global Psychiatry).
The Chester M. Pierce papers are the product of Chester M. Pierce's administrative, teaching, professional, writing, and research activities throughout the course of his career. They include Harvard Medical School and Massachusetts General Hospital administrative records, teaching records, manuscripts and publications, professional organization records, scientific consulting records, correspondence, and collected publications. The papers also include a small number of audio and audiovisual recordings related to race, racism, mental health, stress, and slavery.
A detailed biography of Dr. Pierce can be found here:
https://fa.hms.harvard.edu/files/hmsofa/files/memorialminute_pierce_chester_m.pdf

Chester Middlebrook Pierce - Harvard University
In tribute to their dedicated efforts to science and medicine, deceased members of the Harvard Faculty of Medicine (those at the . rank of full or emeritus professor) receive a review of their life and contributions with a complete reflection,
fa.hms.harvard.edu
Sincerely,
Maurizio Fava, MD, Chair, Department of Psychiatry, MGH
Olivia I. Okereke, MD, SM, Director, MGH Psychiatry Center for Racial Equity and Justice
Greg Fricchione, MD, Director, The Chester M. Pierce MD Division of Global Psychiatry
Giuseppe Raviola, MD MPH, Associate Director, The Chester M. Pierce MD Division of Global Psychiatry; Director, Mental Health, Partners In Health